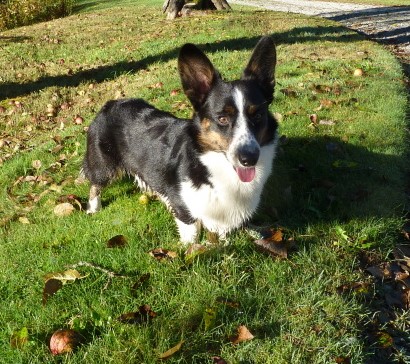 I first met Tammy at a book signing event for Mostly Mutts Animal Rescue where I volunteer. We had an interesting conversation and I bought her book, "Beyond the Fur" (now titled Soul Healing with Our Animal Companions) and found it fascinating. She mentioned at the time that she would consider donating a bioenergy healing session to a dog that might need help at Mostly Mutts. I nominated Hogan who had been rescued many months earlier and was a "handful" probably due to lack of socialization when he was young and whatever else might have happened to him in his life – he had a chain embedded in his neck when rescued. Tammy did several sessions with Hogan and the feedback was great. He was calmer, easier to walk and better behaved around other dogs. Not too long afterwards, Hogan met his forever family and was adopted! Since that time Tammy has donated sessions to other Mostly Mutts dogs as well, and each one has benefitted by being able to release negative energy, becoming calmer and more grounded. Another example that should be highlighted is a little dog named Christopher who could not be near any other dogs due to aggressive behavior. After sessions with Tammy, he can now walk side by side with certain other dogs and will ignore dogs he passes when he is at the park. Seeing all this happening at the dog rescue, I booked a session with Tammy for my own dog, a Cardigan Welsh Corgi named Bogart. Bogart is a little too excitable when meeting other dogs outside and comes across as aggressive by barking and lunging (even though he just wants to meet and play). The bioenergy healing sessions are "long distance" – Tammy is not present with the animal. This is probably hard for many to understand, let me describe what happened during Bogart's session – he was with me the whole time. When the session started he was peacefully sleeping on the floor behind me. Several times during the session I heard him take huge sighs – almost like when a human goes "aaaaaaahhhhhhh." At the precise moment the session was over, he sat up and was wide awake! At his next trip to the park he was wagging his tail and not barking when visiting the dogs through the fence of the large dog enclosure.

Charlotte DeMarco
PR, Marketing, Fundraising Volunteer
Mostly Mutts Animal Rescue and Adoption, Inc
___________________________________________________________________________________________________________________________________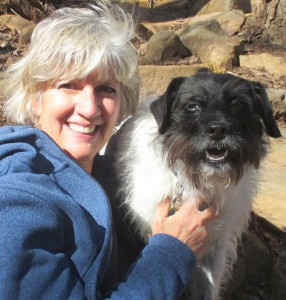 I want to thank you Tammy for the time you spent with me on the phone on Tuesday, March 21, 2017. You gave me several new insights about myself to use in regards to working with my dog, Beau, to help with his fear of thunderstorms.
Interestingly, that very night we had a big thunder storm which I was unaware would be coming until it hit. Normally I know about a storm coming in advance because Beau gets anxious and starts trying to get
on my lap well before the lightening and thunder begins. On Tuesday, he did not seem anxious at all. The wind was blowing so hard that trash cans were blowing down the street and my neighbor's gas grill was knocked over. I then went about my normal routine visualizing Beau calm and secure. I kept telling him how brave he was being too. It worked! 100%. I am sharing my experience with my yoga students and telling everyone about your book. Thank you so much for the work you do. You have a wonderful gift and we are all lucky you are sharing your gift with the world.
Vicki Knight, M. Ed., E-RYT
Yoga Alliance
_____________________________________________________________________________________________________________________________________
Since 2004, Tammy has partnered with my animal advocate and rescue organization to help the homeless pets housed in our Pet Adoption Facility. Many of the orphan pets we work with have emotional wounds and physical challenges due to their backgrounds. Consistently, Tammy's Bioenergy sessions coupled with her ability to quickly see, feel and intuit their messages have allowed them to heal and assisted us in making the best decisions possible on their behalf. I have witnessed countless miraculous healings over the years which includes my own personal pet companions. Tammy has raised my awareness allowing me to take a step back in tough situations and look at things from a higher perspective.
Gigi Graves, Founder and Executive Director of Our Pals Place
_____________________________________________________________________________________________________________________________________
The Bioenergetic healing session with my cat, K'en was very powerful and transformational for me personally.  Tammy was able to connect in with K'en to assist her with an orthopedic issue that is creating difficulty for her to use her front left paw. During the session, Tammy also  put me in touch with the metaphysical causation behind the issue that K'en is mirroring for me as I try diligently to achieve balance in my life.  If you would like to get to the root cause of your pets issue quickly and with ease and grace, I highly recommend the expert insight and wisdom that Tammy brings.
Rebecca Kirson
___________________________________________________________________________________________________________________________________
My kitty, Angelica, was having an issue with daily vomiting and it was quite distressing to witness, so I called Tammy to consult with her and tap into her wisdom before deciding whether or not to seek out a vet. Tammy gave me sage advice which completely turned Angelica's life around for the positive. Actually both of our lives because I am so happy to see her looking better than she has in years and running and playing like a kitten again. She was just trying to give me a message through her physical ailment and once I got the message, thanks to Tammy, I was able to help her feel better and restore her vitality! Thank you Tammy for all your help!!!
Tara Hutto
____________________________________________________________________________________________________________________________________
Bengal
We can tell a real positive difference in Bengal tonight! Bengal was a rescue foster dog that was very shy, sick and emaciated. But after his session with you has been trotting around the dog yard with confidence. I'm a believer and I'd like to schedule a second session!
Debbie Tomlin
Helping Shepherds of Every Color
_____________________________________________________________________________________________________________________________________
Ming
I wanted to give you an update on my cat Ming. He is now doing great and the litter box issues are completely resolved after one session! Ming is a lot happier now and he has a new found confidence in himself. Thank you so much for helping me with the insight to understand and communicate more effectively with Ming. We are both much more happier now and so grateful for your help. Animals are not perfect just like people. They need help sometimes to clear their emotions to feel better just like we do. I hope that people will remember to give animals a chance to correct  behavioral issues and not give up on them like I almost did. They can then experience the joy of how animals enlighten our lives!
Lisa Lester and Ming
---
Sissy
Sissy is noticeably improved after your session.  She is definitely less skittish and more trusting. We are delighted with this and I'm going to schedule another session! Thank You!! 

Ray Berry and Sissy
---
Jada
Thank you so much for working with Jada. I see such a difference in her since our session. You have given us both a renewed quality of life in the time I've known you and my gratitude is endless!
Kim Rizzo and Jada
---
Kirby
We are so grateful to Tammy for her work with our dog, Kirby. It has created a definite shift in our home. We all can sense so much less resistance between us all, and have a greater understanding and compassion for each other. Kirby clearly has less anxiety in the car today… she even laid down and rested. Tammy's insights raised our awareness around Kirby's messages to us through her actions, and even her inner emotional wounds.
With love – Annie, Shalan, & Kirby
Shalan Hill & Ann Pauley
The Posture Project Yoga & Massage
---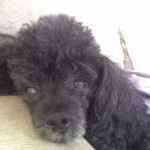 Schoopie
Tammy can use her gifts to communicate with and heal your animals in a profound way. During a time of many changes and stress in our lives Tammy helped my 2 dogs immeasurably.  Her distance energy healing sessions had a noticeable calming effect on my beloved 'boys'.  Tammy can reach your furry kids on a level that can truly help them where we cannot.
D.F.
---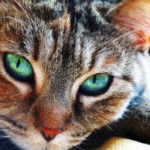 Snickers
It's been six weeks since you did the healing session with my cat, Snickers. You miraculously helped us change a pattern that had been going on for 5 years. Snickers was consistently urinating in a tray outside the littler box and even a few times on the floor. Since the session, he has urinated in the pan outside the litter box only 3 times! He has become even more affectionate. I wish I had called you years ago! Thank you so much for your help, Tammy.
Benita Esposito, M.A.
Relationship and Life Coaching for S.M.A.R.T. Women (and the men who love them)
---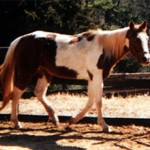 Maxie
Maxie is my 6 year-old-paint horse and is the love of my life since the day she arrived on this great earth. She has a joint condition that causes stiffness in one of her back legs. Early in her life she had difficulty getting up, she needed a lot of help and became depressed. Many said she would never run with ease or be able to be ridden. Our sessions with Tammy have lightened Maxie's spirit dramatically! Tammy has helped Maxie to release her repressed emotions like anger and fear, in addition to energetically working on her leg, getting her grounded, etc. Maxie shows this in her demeanor and her physical activity — she is now running with ease (after only two sessions) and you can tell by the glint in her eyes she is happier and feels better. The sessions have also helped me to understand what Maxie has been through emotionally and how I can better support her needs. I look forward to continuing the sessions with Tammy, as I want Maxie to be as happy and healthy as possible.
Andrea Young
---
Taz
My cat, Taz, after nine years, suddenly refused to go to the bathroom in her litter box. She preferred going on our bathroom rugs. I tried all the traditional methods: Taking her to the vet to check for medical problems, setting her in the litter box when she started for our bathroom, removing the lid off her box, cleaning her box, switching brands and types of litter, but nothing seemed to change her behavior. Tammy advised me that perhaps an energy session with Taz would help. Although I was a little skeptical, I decided I did not have anything to loose. After just two sessions, Taz seemed much more relaxed and started pooping in her box. Tammy suggested a different type of litter box, which was easier for her to get in and out of and, in addition, explained Taz was very stressed and emotional about her behavior and it seemed to be getting worse as everyone in the house was feeling the stress of the situation too. Tammy suggested sending only loving thoughts of seeing her urinating in the box, receiving praise for such an event, and not to scold her if she went outside the box. She also said Taz had a bladder infection and she worked on healing this during her sessions to treat her not only emotionally but physically too. Since we were seeing such positive results, I asked Tammy to have another session with Taz and am now very happy to report that Taz is back to her old self and is also urinating in her litter box on a regular basis! THANK YOU TAMMY!
Dianne Theodore
---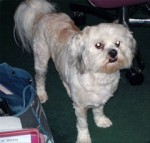 Dalai
Tammy's talents are truly unique. She was able to tune into the energy of my dog, Dalai, and share things with me about events that had happened in our lives that made perfect sense given Dalai's behavior recently. She had hands-on suggestions about things to do that made a tremendous difference. It's obvious that Tammy is passionate about what she does and she communicates her information enthusiastically and clearly.
Lorelei Robbins
loreleilive.com
---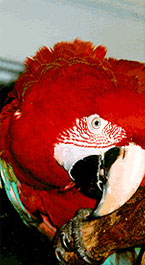 Peter the Macaw
Tammy is an incredible energy healer. I'm very appreciative of the work she's done with my beloved animal companions. She's made a real difference in their lives.
Ruby Falconer
Astrology Insights
---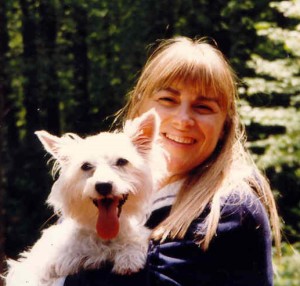 Thank you, Tammy, for your focused energy work combined with so much unconditional love! My Miss Lily is a special little Westie-girl who almost died from Pancreatitis a few years ago. Tammy has very much been a part of her well-being and renewal on a monthly basis ever since.
As a gifted healer, Tammy has the passion and enthusiasm to work deeply with our four-leggeds, and help them move through their own initiations as we move through ours, as well as get clear of the energies they carry for us! In this way, our animals can sometime stay with us here on earth and move to higher levels of consciousness as we do!
Anyaa T. McAndrew
Goddess on the Loose
---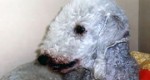 My dog, Eddie, a Bedlington Terrier, had been abused and returned to the breeder. When I brought him home, he was very scared, hid from others and seemed depressed and angry. His interactions with people were of fear and reclusiveness. He did not do well with children.
Through love, attention, and being consistent with him with guidance from Tammy from his sessions, he has opened up to be affectionate, playful and more 'in charge of his world'. I strongly recommend Tammy and her very special healing work. Her intuitive gifts and connection with Eddie helped me to better understand his needs. With Tammy's healing sessions and guidance, I noticed positive changes in his behavior immediately. He's so much more relaxed and friendly. He now loves to lie outside at the end of the driveway — guardian of the household. Thank you Tammy for helping Eddie and me too!
Marj Elliott
Authentic Spaces
---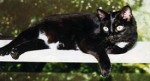 I came to Tammy for help with my very beloved cat, Cleo. She had cancer for the second time around and was falling over upon changing positions, in addition to whenever she tried to groom herself or scratch. After Tammy's energy healing session, Cleo could do both without falling over and you could tell overall she was feeling better. Tammy also detected pain in Cleo's throat and shortly after that, we found a tumor in Cleo's throat and jaw. My prior experience with energy healers had unfortunately turned out to be with fakes, which Tammy definitely is not. I would recommend her to anyone with ill pets, especially those for whom the illness is undefined.
Cathy Conrad